---
Various Artists - EP BARGAIN BUNDLE - SUBPLATES VOL 5 / SUBBASE & FRIENDS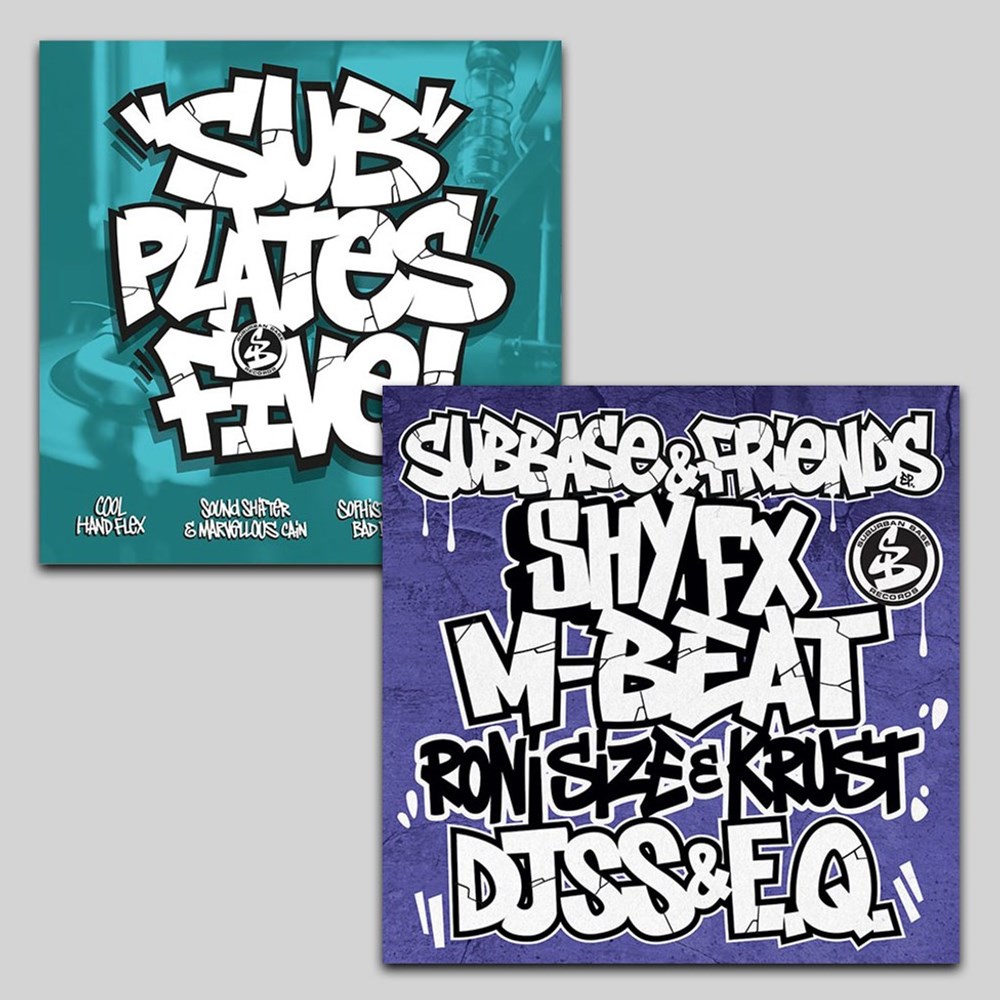 view tracklist
SUBBASEVBUN01 - VINYL + WAV DOWNLOAD 8 tracks
8 ARTISTS, 3 PIECE VINYL, 1 BARGAIN PACKAGE
We've bundled together 2 recent vinyl drops featuring some huge artists... Not only is this probably your last chance to get your hands on these limited pressings fresh from the source, but also buying both these releases together as part of this bundle will save you a full 10 GBP OFF the cost of purchasing these items individually!!
Over years we have collaborated with some of the best in scene to bring their vibes and sound to the Suburban Base label and vice versa, in a new concept EP to bring you some of the re-issues you have demanded we have pulled these together as SUBBASE & FRIENDS, some of the original released remixes from back in the day from some of the scenes heavy hitters including Shy FX, M-Beat, Roni Size & Krust, DJ SS & EQ.
Add to that is an all new SUB PLATES Vol 5 in the original format that made it such collectable item when it launched back in the day! 2 x 10 inch vinyl replicating the dubplate style acetates. And picking up from where it left off with brand new music on Vol 5 like it's never been away! Featuring Cool Hand Flex, Marvellous Cain, Ascend & more!
123
VINYL tracklist
A1. Cool Hand Flex - Get Down [1994 Unreleased Dubplate]
A2. Sound Shifter & Marvellous Cain - Light Source One
B1. Sophisticated Bad Boyz - Feel The Magic [DJ Phantasy '94 Dubplate Remix]
B2. Asend - Intelone [96 Kool Exclusive Dubplate]
C1. Remarc - In Da Hood [Shy FX Remix]
C2. D'Cruze - Want You Now [DJ SS & E.Q. Remix]
D1. Boogie Times Tribe - My Soul [Roni Size & Krust Remix]
D2. Q Bass feat. Skeng Gee - Gun Connection [M-Beat Remix]
---